Celestron 70LCM Computerized Telescope
The Celestron 70LCM Computerized Telescope has all the features and optical performance necessary to keep a recreational astronomer happily observing for many years, at a price that is remarkably inexpensive.
Interestingly, it's not necessary to fully understand everything about right ascension and declination or where to find the north celestial pole, or even how to read a star chart.
SkyAlign alignment technology and StarPointer red dot LED finder ensures lining up on the sky a piece of cake.
With Celestron's NexStar-technology computer hand control you will be able to find upwards of 4,000 celestial objects and will track them faultlessly as you observe at your leisure.
It's pre-assembled adjustable height aluminum tripod and easy no-tool assembly, means that you can be up and ready to tour the Universe within minutes.
This scope is a superb option for a newbie astronomer who wishes to do more than casual viewing the heavens
The 70mm achromatic refractor optics have 36% more light gathering capacity than a 60mm scope. Which means noticeably brighter deep space images, and also the capacity to view a good many more faint objects than a 60mm scope.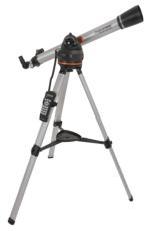 Specification
70LCM Computerized Telescope
High quality 70 mm refractor
Lightweight Computerized Mount
Built-on StarPointer finderscope to help with alignment and accurately locating objects
Quick-release computerized base, optical tube and accessory tray for quick no tool set up
Sturdy aluminum tripod and accessory tray included
Good for terrestrial and celestial observing
Includes CD-ROM The SkyX Astronomy Software which provides education about the sky and printable sky maps
Computerized Mount Features
Proven NexStar computer control technology
Database allows telescope to locate over 4,000 celestial objects
SkyAlign allows you to align on any three bright celestial objects, making for a fast and easy alignment process
Flash upgradeable hand control software and motor control units for downloading product updates over the Internet
Internal battery compartment to prevent cord wrap during use
Compatible with optional NexRemote telescope control software, for advanced control of your telescope via computer
---
Return From Celestron 70LCM Computerized Telescope To Celestron LCM Computerized Telescopes Main Page
Telescopes Home Page