Celestron 80LCM Computerized Telescope
The Celestron 80LCM Computerized Telescope automatically locates the wonders of the universe with its motorized system and on board computer system.
The all glass, fully coated optics reveal the depths of our solar system and the wonders of the Universe and a fully adjustable tripod features a convenient accessory tray. Easy to use computerized hand control allows user to locate objects at the touch of a button.
Newcomers to astronomy will make very good use of the LCMs built-in Sky Tour feature, merely by pressing a button on the LCM computerized hand-controller activates the system to locate and slew to the sky's most interesting objects.
Experienced astronomers will recognize the value of the comprehensive database of 4000+ objects, together with the customized lists of the most fascinating deep-sky objects, planets, and double stars.
This scope brings together a powerhouse of fatures with Celestron's legendary optical standards to offer amateur astronomers a sophisticated and easy-to-use a telescope.
The computerized hand-control provides simple on-screen instructions guide the observer through the alignment procedures. At each and every step there is useful tips, and invaluable reference materials which are easily accessible to make certain a super easy and pleasurable viewing experience is had by all.
Celestron 80LCM Features
High quality 80 mm refractor
Lightweight Computerized Mount
Built-on StarPointer finderscope to help with alignment and accurately locating objects
Quick-release computerized base, optical tube and accessory tray for quick no tool set up
Sturdy aluminum tripod and accessory tray included
Good for terrestrial and celestial observing
Includes CD-ROM The SkyX Astronomy Software which provides education about the sky and printable sky maps
Celestron 80LCM Computerized Mount Features
Proven NexStar computer control technology
Database allows telescope to locate over 4,000 celestial objects
SkyAlign allows you to align on any three bright celestial objects, making for a fast and easy alignment process
Flash upgradeable hand control software and motor control units for downloading product updates over the Internet
Internal battery compartment to prevent cord wrap during use
Compatible with optional NexRemote telescope control software, for advanced control of your telescope via computer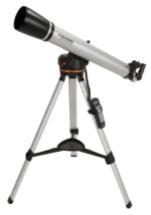 Specification
Optical Design : Refractor
Aperture : 80 mm
Focal Length : 900 mm
Focal Ratio : 11.25
Finderscope : Built-on StarPointer
Mount : Motorized Altazimuth
Eyepiece 1 : 25 mm
Magnification 1 : 36 x
Eyepiece 2 : 9 mm
Magnification 2 : 100 x
Star Diagonal : 1.25 Erect Image
Accessory Tray : No Tool, Quick release
Tripod : Aluminum
CD ROM : "The Sky" X
Highest Useful Magnification : 189 x
Limiting Stellar Magnitude : 12
Resolution (Rayleigh) : 1.74 arcsec
Resolution (Dawes) : 1.45 arcsec
Light Gathering Power : 131 x
Angular Field of View : 1.6 °
Linear Field of View (@1000 yds) : 84 ft
Optical Coatings : Fully-Coated
Computer Hand Control : Fully Computerized / Flash Upgradeable
Slew Speeds : Nine slew speeds: 3°/sec, 2°/sec, 1°/sec, .64x, 32x, 16x, 8x, 4x, 2x
Tracking Rates : Sidereal, Solar and Lunar
Tracking Modes : Alt-Az, EQ North and EQ South
Alignment Procedures : SkyAlign, Auto 2-Star Align, 1-Star Align, 2-Star Align, Solar System Align
Database : 4,000 Object Database
Weight : 14 lb
---
Return From Celestron 80LCM Computerized Telescope To Celstron LCM Telescopes Main Page
Telescopes Home Page