Celestron CGE Pro Computerized Telescope
The Celestron CGE Pro computerized series is Celestron's newest line of observatory class German Equatorial telescopes. Offered with 9.25", 11" and 14" aperture Schmidt Cassegrain optical tubes, they all come mounted on the new state of the art CGE Pro GoTo mount.
The German Equatorial mount has long been the favored choice of astronomy buffs and astrophotographers because of its stability and portability.
More stable because the center of gravity is directly over the center of its base, more portable because it can be broken down into smaller component parts for easy storage and transportation.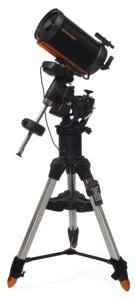 The scope shown to the right is the Celestron CGE Pro 925 Schmidt-Cassegrain Telescope and is part of Celestron's "Top-of-the-Line" computerized German Equatorial mounted astronomical telescopes.
This telescope is especially at home as a solid platform for long exposure photography with optional CCD cameras or photographic equipment.
With over 9 inches of aperture and premium StarBright XLT coatings, the CGE Pro 925 gives you over 1000 times the light gathering power than the unaided eye.
For astrophotography, the German Equatorial mount offers easier balancing, unlimited space at the rear of the telescope tube to mount a camera, and whole sky access.
Now you can enjoy all of the NexStar software and database features with the extra stability and portability of a German Equatorial mount.
Celestron HD Pro Wedge
The Celestron HD Pro Wedge has been designed to support fork mounted Schmidt Cassegrain Telescopes up to 11 inches. The HD Pro Wedge provides a heavy duty, stable platform that is perfect for astroimaging and guarantees minimal vibration.
---
Celestron CGE Pro 1100 This scope has 89% more light gathering power than an 8" telescope and more than 40% more than the 9.25".
Celestron CGE Pro 1400 This scope takes full advantage of its vast database of thousands of NGC and Abell galaxies as well as delivering a new level of detail to all your favorite deep sky objects.
Return From Celestron CGE Pro computerized Telescope To Computerized Telescopes Main Page
Telescopes Home Page