Celestron Motor Drive
The Celestron Motor Drive, DA for CG-4 mounts
This Celestron 93522 Dual Axis Motor Drive
, with drive corrector capabilities, is designed for Celestron's CG-4 mounts for tracking in RA and allows movement in DEC. It precisely controls the telescope's tracking speed during long, timed exposures of celestial objects, producing the best possible image sharpness.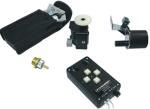 Precision drive correctors are a must for those with a serious interest in astrophotography or CCD imaging. Four speeds are available, 1x (sidereal), 2x for guiding, 4x, and 8x for centering.
This precision, state-of-the-art DC motor drive operates from 4 D-cell batteries (user supplied). The hand controller module is very compact and fits easily in the palm of your hand. Motors for both axes are included, along with brackets, clutch and hardware.
Motor Drive for EQ AstroMasters and PowerSeekers

To allow tracking of celestial objects, Celestron offers an optional single axis motor drive for the CG-2 and CG-3 EQ Mounts.
Once polar aligned, the motor drive will accurately track objects in Right Ascension as they move across the sky. Only minor adjustments in Declination will be necessary to keep celestial objects centered in the eyepiece for long periods of time.
These motor drive will enable you to focus your Celestron Telescope electronically, rather than doing it manually. The motorized telescope focuser removes all chances of bumping or shaking your telescope when focusing. The Motor Drive makes fine focusing a breeze.
Amateur astronomers will find that this is an outstanding tool for astrophotography and for precisely locating and tracking of celestial objects in the sky.
Customer Reviews
Do you have any comments or a review of Celestron Motor Drives? Share it!
What Other Visitors Have Said About Celestron Motor Drives
Click below to see contributions from other visitors to this page...

Celestron 93522 Dual Axis Motor Drive Not rated yet
I acquired these dual axis drives for my Celestron Omni which has a CG4 mount. They're good quality brass and chrome pieces without any tricky demands …
---
Return From Celestron Motor Drive To Telescope Mounts
Telescopes Home Page