Celestron SkyProdigy 130 Computerized Telescope
The Celestron SkyProdigy 130 Computerized Telescope is currently the largest in the series, and is a cutting edge product with innovative technology.
SkyProdigy is the outcome of many years of development in telescopes. It brings together electronic motors, an intelligent on-board computer, a digital camera and StarSense™ technology to create an automatic, instant alignment telescope that requires no input from the user.
Merely switch it on, push a button and settle-back to savor the view. It turns out to be that simple.
The automated alignment procedure will take just minutes, you are then ready to make a choice from a large number of objects to observe.
If you're not sure precisely what to have a look at, just choose the Sky Tour option; this feature provides a customized listing of the very best objects in the sky to look at for your exact time and place from anywhere in the World.
Absolutely no expertise of the night sky is needed as one touch innovation is able to turn anyone into an immediate astronomer.
SkyProdigy telescopes make use of an integrated imaging camera and patented StarSense Technology to automatically align with the night sky and establish where the telescope is currently pointing.
The camera automatically captures an image of the sky, which is processed internally to positively identify the stars in the image.
Once a positive match is found, SkyProdigy determines the coordinates of the center of the captured image. The process is automatically repeated two more times so that the system has three known alignment points that can be used to make an accurate model of the night sky. From this information the user can select any celestial object in the hand controller's database, and SkyProdigy will automatically move itself to the correct position.
The SkyProdigy's internal camera does not have an external output allowing users to view or save the captured images. The captured images are used internally solely for the purpose of self-aligning the SkyProdigy telescope.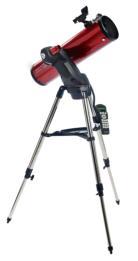 General Features
Fully Automatic Alignment Procedure
Fully Computerized Altazimuth Mount
Quick-Release Fork Arm Mount and Optical Tube for Easy, Quick No Tool Set Up
Sturdy Stainless Steel Tripod and Accessory Tray
CD-ROM The SkyX First Light Edition Astronomy Software Which Provides Education About the Sky
Battery Pack Providing over 30 Hours of Power
Celestron SkyProdigy 130 Computerized Mount Features
Proven Computer Control Technology
Database Allows Telescope to Automatically Locate Over 4,000 Celestial Objects
Proprietary StarSense Technology Provides a Completely Automatic Alignment Process with No User Intervention Required
Flash Upgradeable Hand Control Software for Downloading Product Updates Over the Internet
---
Return From Celestron SkyProdigy 130 Computerized Telescope To Celestron SkyProdigy Main Page