Celestron SkyProdigy 70 Computerized Telescope
The Celestron SkyProdigy 70 Computerized Telescope is one of three models in the series. This telescope is a truly revolutionary product with ground breaking technology.
This scope is the end result of many years of telescope advancements. It combines electronic motors, an intelligent on-board computer, a digital camera and StarSense™ technology to create an automatic, instant alignment telescope that requires no input from the user.
You simply turn it on, push a button and enjoy the view. It really is that easy.
The automatic alignment process takes only a couple of minutes, you will then be in a position to select from thousands of objects to view.
Not sure what to look at?
No problem! Just select the Sky Tour option; this feature provides a customized listing of the best objects in the sky to view for your exact time and location anywhere in the world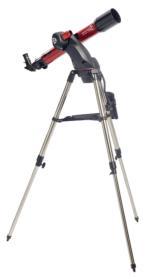 General Features
Fully Automatic Alignment Procedure
Fully Computerized Altazimuth Mount
Quick-Release Fork Arm Mount and Optical Tube for Easy, Quick No Tool Set Up
Sturdy Stainless Steel Tripod and Accessory Tray
CD-ROM The SkyX First Light Edition Astronomy Software Which Provides Education About the Sky
Battery Pack Providing over 30 Hours of Power
Computerized Mount Features
Proven Computer Control Technology
Database Allows Telescope to Automatically Locate Over 4,000 Celestial Objects
Proprietary StarSense Technology Provides a Completely Automatic Alignment Process with No User Intervention Required
Flash Upgradeable Hand Control Software for Downloading Product Updates Over the Internet
Specification
Optical Design Refractor
Weight 14 lbs (6.35 kg)
Aperture 70 mm (2.76 in)
Focal Length 700 mm (27.56 in)
Focal Ratio 10
Finderscope StarPointer
Mount Motorized Altazimuth
Eyepiece 1 25 mm (0.98 in)
Magnification 1 28 x
Eyepiece 2 9 mm (0.35 in)
Magnification 2 78 x
Accessory Tray No Tool, Quick release
Tripod Steel
CD ROM The SkyX First Light Edition astronomy software
Highest Useful Magnification 165 x
Limiting Stellar Magnitude 11.7
Resolution (Rayleigh) 1.99 arcsec
Resolution (Dawes) 1.66 arcsec
Photographic Resolution 400 line/mm
Light Gathering Power 100 x
Angular Field of View 1.7 °
Linear Field of View (@1000 yds) 91 ft (27.74 m)
Optical Coatings Fully-Coated
Computer Hand Control Fully Computerized / Flash Upgradeable
Slew Speeds Nine slew speeds: 3°/sec, 2°/sec, 1°/sec, .5°/sec, 32x, 16x, 8x, 4x, 2x
Tracking Rates Sidereal, Solar and Lunar
Tracking Modes Alt-Az
Alignment Procedures StarSense Automatic Alignment, Solar System Align
---
Return From Celestron SkyProdigy 70 To Celestron SkyProdigy Main Page