Coronado Solar Telescopes
Meades range of Coronado solar telescopes with the RichView™ tuning method are an incredible breakthrough in solar observation and is built into every new Coronado SolarMax II.
Coronado specialized solar telescopes serve to greatly enhance your viewing pleasure, and provide you with an easy and portable set up that is ready to go right out of the box.
You can now zero in on the most precise wavelength of light for each area on either side of the hydrogen-alpha (Ha) band for the highest contrast views of active regions, flares, filaments and other surface features.
Or... quickly re-tune for spectacular images of prominences on the solar limb. Currently there is no other commercially available Ha telescope which provides the tuning range and accuracy of the SolarMax II.
The patented RichView™ tuning method works by directly tuning the etalon, the heart of the Coronado Ha filter system, which gives you greater tuning range and detail than that found on other solar telescopes.
---
The SolarMax II 90
This is the largest H-A telescope ever to be mass-produced and is in use around the world from private observatories to professional research facilities. It is noted for incredibly sharp, 'contrasty' H-Alpha views, and stunning detail.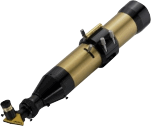 Even when viewing with a single eyepiece the sun appears fully animated even revealing hints of curvature, this effect is enhanced when used with bino-viewers.
The SolarMax 90 is compatible with most imaging systems and amateur astronomers have produced images that rival those gathered by multi million dollar systems.
This very high quality 90mm personal solar observatory features an 800mm focal length, f/8.8 focal ratio. Includes mounting rings, Cemax 25mm eyepiece, Sol Ranger solar finder and carry case. BF15 version (15mm diameter blocking filter )
With the massive increase in solar activity in recent times amateur astronomers will want to take advantage of the visual observations and high quality imaging offered by this scope.
---
Coronado PST
This 40mm diameter is a highly portable dedicated solar telescope that features completely internal, non-removable and student safe solar filtering optics.
SolarMax II 60mm
Used around the world by serious solar enthusiasts and professional research facilities alike for observation of surface detail and prominences on the Sun in hydrogen-alpha (Ha) light.
Return From Coronado Solar Telescopes To Meade Telescopes
Telescopes Home Page