Meade LightBridge 16" Dobsonian Telescope
The Meade Lightbridge 16" is not just a big telescope. It's a big telescope that goes anywhere. The new LightBridge Truss-Tube Dobsonian Telescope from Meade disassembles and sets up quickly, so you can take one of these massive windows to the universe out to your favorite dark-sky location with ease.
The LightBridge Dobsonian gives you high-quality Meade optics, premium components, and ultra portability - all for about the same price as an ordinary tube Dobsonian. Get a LightBridge Truss-Tube Dobsonian today, and prepare to cross the universe.
Metal Optical Tube with Primary Mirror Cell
The 16" LightBridge Truss-Tube Dobsonian features a superior Meade quality multi-coated, diffraction limited 16" primary mirror, focal length 1829mm (f/4.5).
The optics of this style of telescope are only as good as their mounting, which is why Meade engineers gave the LightBridge primary mirror a top of the line, fully adjustable, high strength but light weight aluminum stress free floating multi-point cell with built in cooling fan.
The included battery pack for the fan takes 8 (user supplied) AA batteries and is used to speed the cool down process of the primary mirror, improving image quality.
Diffraction Limited Optics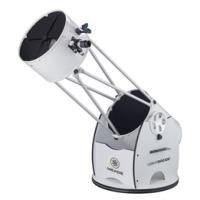 Meade optics consistently outperform telescopes of similar and larger aperture. Consumers know that "Meade Optics Inside" means that what they see through our telescopes will be views that are detailed, crisp, and full of contrast.
Meade Optical Coatings
Aluminum coatings with magnesium fluoride provide bright images full of detail.
Features
Remarkable portability for its size
Disassembles and sets up quickly
Diffraction-limited, fully-coated optics
Roller bearings for smooth, easy movements
Lightweight aluminum trusses
---
Return From Meade LightBridge 16" To Meade LightBridge Telescopes Main Page
Telescopes Home Page