Meade Lightbridge Portable Dobsonian Telescope
This week I thought we would take a look at the Meade Lightbridge, a portable Dobsonian telescope. Available in 10", 12, and 16" it's a scope you can take anywhere being extremely easy to setup and quick to take down.
These scopes offer focal length and ratios of 1270mm f/5, 1524mm f/5 and 1829mm f/4.5 respectively.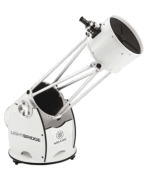 The 10" scope (shown here) gives you probably more light-gathering capacity for your observing dollar than any other type of telescope. It's large aperture, gathers 56% more light than an 8" scope does and is perfect for observing faint and distant objects outside the solar system.
Because of it's open truss design its portabilty is greatly improved over a solid view design. These hand driven scopes have stable mounts with smooth and stable movement, an absolute necessity if you wish to enjoy your viewing of the night sky.
Meade Optics
The Meade optics with these scopes have aluminum coatings with magnesium fluoride over coat which provide bright images that are full of detail. The 2" Crayford-style machined aluminum focuser has a 1.25" adapter and gives smooth precise focusing. It also has a unique focus tension knob and focus lock design allowing complete control over focus.
A Built-In primary mirror cooling fan brings the telescope into thermal equilibrium quickly and efficiently with the battery powered cooling fan which is mounted to the rear of the "vented" primary mirror cell for fast cooling.
Deluxe models are equipped with a Meade 26mm QX Wide Angle 2" Eyepiece premium eyepiece, and boasts a massive 70° apparent field of view.
An advanced four-reticle red dot viewfinder with varying brightness controls allow this deluxe finder to adjust to your viewing needs.
The Mount
The mount is sturdy and has roller bearings on the azimuth (side to side) axis and large diameter aluminum altitude (vertical axis) bearings with a hand adjustable variable tension brake for smooth and stable movement.
To complete this setup .. Meade's AutoStar SuiteT Astronomical Software is included with these scopes. All in all it looks to be a superb package.
Meade Laser Collimator
Telescope optics are normally aligned at the factory, but shipping and handling can sometimes misalign collimation, and it may become necessary to use the Meade Laser Collimator to re-align your scope.
---
Meade LightBridge 10-Inch Truss Tube Dobsonian Telescope
Meade optics offer premium components and great portability for about the same price as an ordinary solid tube Dobsonian
Meade LightBridge 12-Inch Truss Tube Dobsonian Telescope
The Meade LightBridge 12" Dobsonian is not just a big scope, it's a big telescope that can go anywhere.
Meade LightBridge 16-Inch Truss Tube Dobsonian Telescope
The 16" LightBridge Truss-Tube Dobsonian features a superior Meade quality multi-coated, diffraction limited 16" primary mirror, focal length 1829mm (f/4.5).
Return From Meade Lightbridge To Meade Telescopes
Telescopes Home Page