Meade LT6 Telescope
The Meade LT6 telescope is a fully featured, computer controlled ACF telescope that sets a high performance standard for similarly priced instruments.
Its legendary optics, along with precision worm gear drives, sturdy diecast aluminum mount and robust steel tripod make this the ultimate platform for high resolution visual observation and imaging.
Precision Construction
A rigid, die-cast aluminum mount solidly supports the optical tube in all sky orientations. Precision 4.875" diameter worm gears in both axes provides smooth Sidereal tracking of objects in the night sky.
The stable, fully adjustable steel tripod delivers all the rigidity required in sensitive field applications.
Without question the Meade LT6 provides an astounding level of optical, mechanical and computer performance to be found in a telescope, and is the ideal choice for any astronomer who requires exceptional optics, mechanics and computer control all in a compact, high-performance package.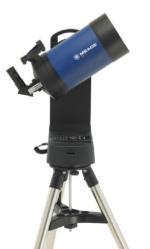 Features
The Meade LT 6" ACF telescope is a fully featured, computer controlled 6" Advanced Coma Free design.
Advanced proprietary process offer the finest quality professional grade optics available.
The Meade LT 6" ACF includes UHTC - Ultra High Transmission Coatings for distortion-free, tack sharp images.
AutoStar guides the telescope to 30,000 objects in its comprehensive library, automatically.
The Meade LT 6" ACF telescope includes a diecast aluminum mount which supports the optical tube in any sky configuration.
Level North and Easy-Align Technology makes all LT-6 easy to use - right out of the box!
---
Return From Meade LT6 Telescope To Meade LT Telescopes Main Page
Telescopes Home Page