Meade LX200 ACF 16
The Meade LX200 ACF 16 inch catadioptric telescope has Advanced Coma-Free optics to bring the astronomical image quality of a professional observatory to you at an amazing price.
It has a flat, coma-free field similar to that of the Ritchey-Chretien reflector optics used in most professional observatory telescopes and the Hubble Space Telescope, but at a fraction the cost!
The most widely used research telescope on earth now comes with the most advanced optical system in space. Meades all new LX200ACF brings Advanced optics within reach of aspiring astronomers everywhere.
The LX200ACF includes all the field-proven features of the LX200 including GPS, Primary Mirror Lock, Zero Image-Shift Microfocuser, Oversized Primary Mirror, SmartDrive, Smart Mount, AutoStar II and more.
Plus, the LX200ACF comes with observatory-class optics crafted in Irvine, California, and a Series 5000 26mm 5-Element Plossl eyepiece.
Reviewed recently in Astronomy Now Magazine concluding that "the optics are superior to traditional Schmidt Cassegrains and the new instrument excels and is a clear winner"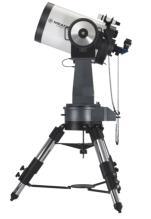 Meade LX200-ACF 16 Specification
Optical Design:Advanced Coma Free
Clear Aperture:406.4mm (16")
Focal Length Focal Ratio:4064mm f/10
Maximum Practical Visual Power:950X (16")
Telescope Mounting:Heavy-duty fork type; double-tine
Zero Image-Shift Microfocuser:included (4-speed)
Eyepiece:Series 5000 26mm 5-Element Plossl
Viewfinder:8 x 50mm
GPS, True-level and North sensors:Included (16-channel GPS receiver) All models
Pointing Precision, High Precision Mode:1-arc min. All models
Autostar® II Hand Controller:Included (147,541 object database)
Batteries (user-supplied):none
Battery Life (approx.):n/a
Slew Speed:RA and Dec: 0.01x to 1.0x sidereal, variable in 0.01x increments; 2x, 8x, 16x, 64x, 128x sidereal; 1°/sec. to 8°/sec., variable in 0.1° increments. All models
Tracking Rates:Sidereal, lunar, or custom-selected from 2000 incremental rates All models
Primary, Secondary Mirrors:Pyrex® glass grade-A,
Correcting Plate/Lens:Water white glass
Super Giant Field Tripod and optional Equatorial or Altazimuth Pier
The Meade Giant Field Tripod gives your larger Meade telescope a solid, research-grade foundation. Height adjustable, allowing comfortable standing or seated observations through the telescope.
Meade 16" Permanent Equatorial and Altazimuth Piers offer an outstandingly rigid, permanently mounted installation engineered to minimize any vibration. Strong enough to carry the weight of the 16" LX200 with any and all accessories including piggybacked telescopes. The piers are a full 10" diameter and feature 1/2" wall thickness for rock solid performance.
---
Return From Meade LX200 ACF 16 inch catadioptric telescope To Meade LX200 Main Page
Telescopes Home Page