Meade LX200 Telescope
The most extensively used research high quality Meade LX200 Telescope is one for the serious astronomer, and now features probably one of the most highly developed optical systems that you're likely to find anywhere.
Amateur astronomers can now benefit from the advanced Coma-Free (ACF) optics offered by the Meade LX200-ACF.
Practically every observatory reflector in the world employs an aplanatic (coma-free) optical system, and now you can acquire optics very similar to that which the industry experts use.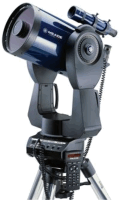 The LX200-ACF telescope includes every one of the field-proven popular features of the LX200 most notably GPS, Primary Mirror Lock, Oversized Primary Mirror, SmartDrive™, Smart Mount™, AutoStar® II and more.
The LX200-ACF is the perfect platform for the demanding researcher and imaging enthusiast with telescopes available in apertures of 8 inches, 10 inches, 12 inches, 14 inches, and 16 inches.
This could be the greatest news in astronomy ever since, well, the LX200.
Meade engineers have developed a revolutionary new Advanced Coma Free design by combining a hyperbolic secondary mirror with a corrector-lens-and-spherical-primary-mirror combination that performs as one hyperbolic element.
Features
Advanced f/10 Optics
Meade Ultra-High Transmission Coatings (UHTC)
Zero Image-Shift Electric Microfocuser
Primary Mirror Lock
Oversize Primary Mirror
Smart Mount
Smart Drive
SonyGPS Receiver Sensor
AutoAlign
AutoStar II 150,000 objects
Includes 26mm series 5000 super plossl
Diagonal 1.25" or 2" depending on model
---
LX200 ACF 8" The most widely used research telescope on earth now comes with the most advanced optical system in space.
LX200 ACF 10" has a flat, coma-free field similar to that of the Ritchey-Chretien reflector optics used in most professional observatory telescopes
LX200 ACF 12"Advanced Coma-Free optics to bring the astronomical image quality of a professional observatory to you at an amazing price.
LX200 ACF 14"includes all the field-proven features of the LX200 including GPS, Primary Mirror Lock, Zero Image-Shift Microfocuser and more
LX200 ACF 16"Reviewed recently in Astronomy Now Magazine concluding that "the optics are superior to traditional Schmidt Cassegrains and the new instrument excels and is a clear winner
Return From Meade LX200 To The Meade Telescopes Main Page