Meade LX200-ACF 8
The Meade LX200-ACF 8 inch catadioptric telescope has Advanced Coma-Free optics to bring the astronomical image quality of a professional observatory to you at an amazing price.
It has a flat, coma-free field similar to that of the Ritchey-Chretien reflector optics used in most professional observatory telescopes and the Hubble Space Telescope, but at a fraction the cost !
The most widely used research telescope on earth now comes with the most advanced optical system in space. Meades all new LX200ACF brings Advanced optics within reach of aspiring astronomers everywhere.
The LX200ACF includes all the field-proven features of the LX200 including GPS, Primary Mirror Lock, Zero Image-Shift Microfocuser, Oversized Primary Mirror, SmartDrive, Smart Mount, AutoStar II and more. Plus, the LX200ACF comes with observatory-class optics crafted in Irvine, California, and a Series 5000 26mm 5-Element Plossl eyepiece. The new LX200ACF. Its the biggest news in astronomy since, well, the LX200.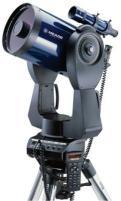 Reviewed recently in Astronomy Now Magazine concluding that "the optics are superior to traditional Schmidt Cassegrains and the new instrument excels and is a clear winner"
Meade LX200-ACF 8 Specification
Optical Design:Advanced Coma Free
Clear Aperture:203mm (8")
Focal Length Focal Ratio:2000mm f/10(8")
Maximum Practical Visual Power:600X (8")
Telescope Mounting:Heavy-duty fork type; double-tine
Primary Mirror Lock:Included (progressive tension)
Zero Image-Shift Microfocuser:Optional accessory. Order PN: 07080
Eyepiece:Series 4000 26mm Super Ploss
Viewfinder:8 x 50mm
GPS, True-level and North sensors:Included (16-channel GPS receiver)
Pointing Precision, High Precision Mode:1-arc min. All models
Autostar® II Hand Controller:Included (147,541 object database) All models
Batteries (user-supplied):8 x C-cells
Battery Life (approx.):20 hrs
Slew Speed:RA and Dec: 0.01x to 1.0x sidereal, variable in 0.01x increments; 2x, 8x, 16x, 64x, 128x sidereal; 1°/sec. to 8°/sec., variable in 0.1° increments
Tracking Rates:Sidereal, lunar, or custom-selected from 2000 incremental rates
Primary, Secondary Mirrors:Pyrex® glass
Correcting Plate/Lens:Water white glass
---
Return From Meade LX200-ACF 8 inch catadioptric telescope To Meade LX200 Main Page
Telescopes Home Page