Meade StarNavigator 114
The Meade StarNavigator 114 mm Reflector Telescope is suprisingly simple to operate and fully computer-guided GoTo telescope.
Featuring the AudioStar hand controller with Astronomer Inside technology providing you with a guided tour of the night sky with synchronized tracking and audio explanations.
Following a brief alignment procedure, the motorized mount will slew the scope from object to object whilst the built-in speaker in the hand-held controller points out the celestial object being observed.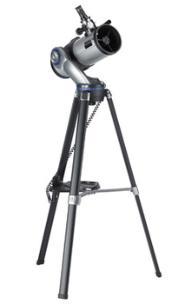 If you'd want to be your own personal tour guide of the night sky, the telescope is able to take you to any visual object in its database of over 30,000 objects, and keep you informed with more than 500 audio presentations in either English or French.
The StarNavigator 114 mm reflecting telescope features a lens diameter of 4.5" / 114 mm for a bright, highly contrasted image. It has a focal length of 1000 mm and a focal ratio of f/8.8.
AutoStar Suite Astronomer Edition software and Instructional DVD, an easy to use red dot viewfinder, and two Meade 1.25" eyepieces of 40x and 111x magnifications are included. It also comes with a single arm altazimuth mount and a sturdy tripod with a lens tray.
The sturdily built metal constructed telescope mount, features advanced electronics to make alignment easy. It includes an internal clock, and the full size, adjustable-height, aluminum tripod allows for secure, relaxed viewing. The mount is powered from the internal battery pack which holds 8 user supplied "AA" batteries.
---
Return From Meade StarNavigator 114 To Meade DS 2000 Telescopes Main Page