Minox Binoculars
Minox Binoculars take into account the specific needs of amateur astronomers who wear glasses, and with the extended exit pupil, it makes it possible for wearers to experience the full field of view, which is sharp right to the edges. Twist-up rubber eyecups with click stops are an extremely convenient feature of these binoculars.
Minox BL 10x52
The BL 10x52 was introduced by the optics specialists Wetzlar and extend the series of the remarkably lightweight, yet powerful binoculars with comfort bridge. Having a compact design and ergonomic features this model excels from dawn to dusk and on into the moonlit night.
Minox BL 13x56 BR
The light gathering optical system of the Minox BL 13x56 BR Binoculars have multicoated lens elements which guarantee quality optical performance and the natural color rendition of the subject.
Minox BD 10 x 58 ED BR
The Minox 10x58 has a large field of view of upto 6. 5 degrees, a short close focus range of 4.9m, macrolon body, extendible eyecup, viewing for people wearing glasses and nitrogen filling prevents that misting up of optical system on inside, even under extreme temperature fluctuations.
Roof prisms with phase correction coating give the user an image of incredibly high detail rendition and rich in contrast, even in awful lighting conditions.
Distant objects are almost close enough to touch, so with Minox binoculars you can always keep objects in view.
With this new model of the MINOX BL series the renowned optical specialist from Wetzlar has added powerful binoculars with a high magnification factor to its product range.
Minox BL 15x56
These are the perfect binoculars for observing, with their large light-gathering power they are certainly in a class of their own. With a very low weight and robust design the new BL15x56 offers the discerning user the very best, uncompromising quality.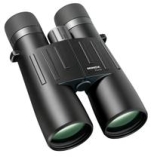 The powerful optical system of the BL binoculars has multi-coated lenses that guarantee the highest optical performance and neutral color rendition of the subject in view.
Thanks to the roof prisms with phase correction coating the user enjoys an image with excellent detail rendition and also high contrast in all light conditions.
A nitrogen filling on the inside of the binoculars prevents fogging of the glass surfaces even with severe temperature fluctuations also provides permanent protection against corrosion
---
Return From Minox Binoculars To Astronomy Binoculars
Telescopes Home Page