Olympus Binoculars
The EXPS I Olympus binoculars offer 12x magnification with an aperture of 50mm, and are a great choice for astronomical viewing. This is as large as you want to go if they are to be hand held, any more and you will need a tripod to eliminate any shake.
You will find there's a great deal more to binoculars than just magnification.
As elementary as binoculars are to use, features such as objective lens, angle-of-view, prism design and eye-relief are combined in a variety of ways to provide different observation requirements.
12x50. The first number represents the magnification power, in this instance, 12 times larger than seen with the naked eye. The 2nd number represents the diameter (in millimeters) of the objective lens, in this instance, 50mm.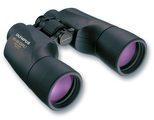 The objective lens is the lens closest to the object you're looking at (not the lens that's closest to your eye) and is a good indicator of the binoculars' light-gathering power.
These binoculars have high index BaK-4 porro prisms for bright, crisp edge-to-edge images and have fully multi-coated lenses for maximum image brightness and contrast.
There is a large, centre-focus knob that makes for fast and easy focusing, and a built-in dioptric correction that adjusts to an individuals eyesight.
Comes complete with a case, neckstrap and protective lens covers.
---
Return From Olympus Binoculars To Astronomy Binoculars
Telescopes Home Page