Orion VX12 Telescope
The Orion VX12 telescope is a fast, f4 system and ideally suited for viewing and imaging of deep sky objects. The tube is short enough to fit on the back seat of any family car and so, is a great instrument for taking to dark viewing locations.
For CCD imaging it is strongly recommended to use the Baader Coma Corrector which is now available. This will allow for a flatter, much wider field to be produced by the VX12.
Aesthetically, it is a magnificent telescope, guaranteed to ensure the hand finished optics deliver views which are outstanding.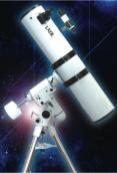 This scope is an excellent choice for Deep Sky observation, and CCD imaging with planets and the moon. The VX12, as well as all other models in the VX series, is the end result of incorporating a number of the quality features of the optical tube assemblies and supersedes the Dobsonian, Europa and SPX ranges of telescopes which, are now, offered in the single, yet versatile, VX range.
Specification
Tube weight 14kg
Tube length 1160mm
Tube diameter 326mm
Focal length 1200mm
Focal ratio f4
Primary mirror size 300mm
*Secondary mirror size 75mm
---
Return From Orion VX12 Telescope To Orion VX Telescopes Main Page
Telescopes Home Page