Orion VX Telescope
The Orion VX telescope range are precision Newtonian Reflecting Telescopes, that provide an extensive array of alternatives, allowing you to create a tailor made system to match your all your observing requirements.
The VX series, is the culmination of combining many of the quality features of Orion's optical tube assemblies of the older Dobsonian, Europa and SPX ranges of telescopes which, are now, offered in a single, yet adaptable, VX range.
Faster focal length VX Telescopes excel in the area of Astrophotography while the greater focal lengths available will appeal to visual observers.
A great plus point with VX is the range of Mount Systems available from their own simple but stable Dobsonian Mount to the Industry leading Paramount ME Robotic System.Coupled with world-class optics (which can be further upgraded in the options on each model) the VX range will assist your pursuit of Astronomy perfectly.
As an added security, every model is supplied with a full Zygo report to show the characteristics of the mirror in your telescope.
Orion VX6
For a serious introductory view of the night sky, with high performance in general, the VX6 150mm f5 model is highly recommended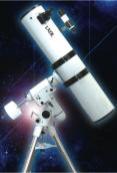 VX6 Specification
Tube weight 4.5kg
Tube length 750mm
Tube diameter 167mm
Focal length 750mm
Focal ratio f5
Primary mirror size 152mm
Secondary mirror size 50mm
---
Orion VX8 Telescope
This is an hand built British made telescope,which has been designed for viewing Galaxies, as well as outstanding views of planets and the moon.
Orion VX10 Telescope
If you are looking for a hand built telescope guaranteed to give remarkable performance in a 250mm aperture, the VX 10 is for you.
Orion VX12 Telescope
Visually, it is a stunning telescope, guaranteed to ensure the hand finished optics deliver views which are incredible
Orion VX14 Telescope
This model is 50mm (2") larger in aperture than the VX12 models and has significantly more light grasp.
Orion VX16 Telescope
The telescope requires a substantial mounting to ensure you realise it's full potential.
Orion VX20 Telescope
Various configurations are available to meet your requirements however, the basic f4 system is the core of all variations.
Return From Orion VX Telescope To Orion Optics
Telescopes Home Page