Orion VX16 Telescope
The Orion VX16 Telescope is the largest 'solid' aluminium tube assembly in the range. Suitable for very high resolution of any subject matter. Capable of producing views of outstanding clarity and detail.
The VX16 has almost 77% more light gathering power than a 300mm telescope which yields considerably brighter and more detailed images.
The telescope requires a substantial mounting to ensure you realise it's full potential. Hand figured, fully Zygo tested, as are all of Orion's optics, the VX16 ensures all of your expectations will be surpassed.
Each standard tube assembly includes 1/6PV HiLux Optics, Fan Assisted Cooling on Optics, 9 Point Primary Mirror Cell,Tube Trims,OC1 Focuser,Quality Spider,50mm Finder Scope, Black Tube Cradles and One Eyepiece* (25mm) supplied only with inclusion of mount system.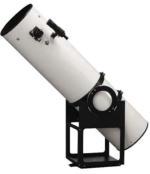 Specification
Tube weight 29kg
Tube length 1580mm
Tube diameter 434mm
Focal length 1600mm
Focal ratio f4
Primary mirror size 400mm
*Secondary mirror size 63mm
---
Return From Orion VX16 Telescope To Orion VX Telescope Main Page
Telescopes Home Page