Orion VX8 Telescope
The Orion VX8 Telescope is an hand built British made telescope,which has been designed for viewing Galaxies, as well as outstanding views of planets and the moon.
The VX 8 is the 200mm f4.5 model and along with all the other models in the VX series, is the culmination of combining many of the quality features of Orion's optical tube assemblies and supersedes the Dobsonian, Europa and SPX ranges of telescopes which, are now, offered in the single, yet adaptable, VX range.
Each standard VX tube assembly include 1/6PV Hilux Optics, a fan assisted cooling on optics,9 Point Primary Mirror Cell and tube trims.
Additionally there is an OC1 precision Crayford Focuser, quality, fully adjustable secondary spider 50mm Finder Scope and black tube cradles which can accept all standard mount attachment dovetail plates.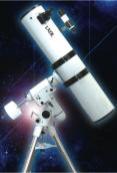 Specification
Tube weight 7kg
Tube length 860mm
Tube diameter 225mm
Focal length 900mm
Focal ratio f4.5
Primary mirror size 203mm
*Secondary mirror size 63mm
---
Return From Orion VX8 Telescope To Orion VX Telescopes Main Page
Telescopes Home Page