Skyliner 200p Dobsonian
The Skywatcher Skyliner 200p Dobsonian Telescope 203mm/1200mm (8") has a "paraboloidal" primary mirror to eliminate spherical aberration and a four-arm, secondary- mirror bracket with fine supports(0.5mm thick), to reduce diffraction spikes and light loss.
In addition, the 200p includes a 2" focuser with a 1.25" adapter, allowing the use of either eyepiece size. This model also includes the new feature-tension control handle.
Tension Control Handle
The Skywatcher Tension Control Handle provides a tension adjuster that users can easily turn to add or reduce tension, thereby increasing or decreasing the friction between the optical tube and the sideboard of the mount. By providing such a tension adjuster, the telescope does not need to be balanced in order to stay in position.
The tension adjuster can be tightened such that the optical tube can stay in a position but can still be moved when prompted to adjust the position of the optical tube.
Alternatively, the tension adjuster can be completely tightened to lock the optical tube in position.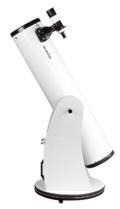 Features
Optical Design Newtonian (Parabolic)
Lens Material
Diameter 203mm
Focal Length 1200mm
Scondary Mirror Diameter 47mm
F/ratio F/5.9
Highest Practical Power 406x
Faintest Steller Magnitude 14.2
Resoving Power 0.56
Finderscope 9x50*
Focuser diameter 2" with 1.25" adapter
Diagonal
Eyepiece(s) 1.25" Super 25 and 10*
Mount Type Dobsonian
Slow-motion Control
Counterweight(s)
Piggyback Bracket
Accessory Tray
Ground Board Diameter 52cm
Ground Board Weight(s)
Motor Drive
Go-to
Tube Weight 11kg
Tube Dimension(dia. x length) 20.5cm x 112cm
Tripod Height
Shipping Weight Tube:11kg, Base:15.64kg
Shipping Carton Dimensions 67x 80 x 11 cm3 / 125 x 39.5 x 46.5 cm3
---
Return From Skyliner 200p Dobsonian To Skywatcher Telescopes
Telescopes Home Page