Skyliner 250p Dobsonian
The Skywatcher Skyliner 250p Dobsonian 254mm/1200mm (10") is the largest in the series and has a "paraboloidal" primary mirror to eliminate spherical aberration and a four-arm, secondary-mirror bracket with fine supports (0.5mm thick), to reduce diffraction spikes and light loss.
In addition, this model include a 2" focuser with a 1.25" adapter, allowing the use of either eyepiece size. This model also include the new feature-tension control handle.
Pyrex Glass On The 10"
The Skywatcher 10" Dobsonian features a primary mirror made of Pyrex glass. Because of its very low coefficient of thermal expansion, Pyrex glass is less affected by changing temperatures.
This greatly reduces the cooling time of a telescope larger than 8" in dameter without using an extra fan. The great stability of this low expansion glass ensures high quality images.
It is also substantially more resistant to scratching then plate glass. Please note this is available on the 254mm/120mm (10") only.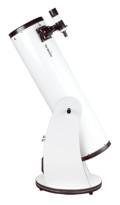 Features
Optical Design Newtonian (Parabolic)
Lens Material
Diameter 254mm
Focal Length 1200mm
Scondary Mirror Diameter 58mm
F/ratio F/4.7
Highest Practical Power 508x
Faintest Steller Magnitude 14.7
Resoving Power 0.56
Finderscope 9x50*
Focuser diameter 2" with 1.25" adapter
Diagonal
Eyepiece(s) 1.25" Super 25 and 10*
Mount Type Dobsonian
Slow-motion Control
Counterweight(s)
Piggyback Bracket
Accessory Tray
Ground Board Diameter 52cm
Ground Board Weight(s)
Motor Drive
Go-to
Tube Weight 15kg
Tube Dimension(dia. x length) 26cm x 112cm
Tripod Height
Shipping Weight Tube:15kg, Base:16kg
Shipping Carton Dimensions 67x 80 x 11 cm3 / 126.5 x 47 x 51.5 cm3
---
Return From Skyliner 250p Dobsonian To Skywatcher Telescopes
Telescopes Home Page