Skywatcher Skymax 127 Maksutov Cassegrain
The Skywatcher Skymax 127 (127Mm (5") F/1500 Maksutov-Cassegrain ) is the ultimate "take-anywhere" telescope.
It is also ideal if space is at a premium. Despite it's small dimensions it packs a powerful punch. The High-Resolution optical system is multi-coated to maximize contrast and image sharpness.
The Skymax Maksutovs also comes in apertures of 90mm, and 127mm, and are available either complete with equatorial mounts and tripods, or as tube assemblies only, which can be mounted onto a standard photographic tripod. Whether your requirement is for terrestrial or astronomical use, these compact scopes are the perfect companion.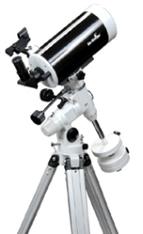 Skywatcher Skymax-127 (Eq3-2)
Magnifications (with eyepieces supplied): x60 & x150
Highest Practical Power (Potential): x254
Diameter of Primary Mirror: 127mm
Telescope Focal Length: 1500mm (f/11.81)
Eyepieces Supplied (1.25"): 10mm & 25mm
Red Dot Finder
90° Diagonal
EQ3-2 Deluxe Equatorial Mount
Built-in Polar Alignment Scope Holder
Aluminium Tripod with Accessory Tray
55% more Light gathering than 102mm
Tube Weight 3.4Kgs
Tube Dimension(dia. x length) 14cm x 33cm
Tripod Height 71-123cm
Shipping Weight 23Kgs
Shipping Carton Dimensions 102.5 x 46.5 x 30 cm3
---
Return From Skywatcher Skymax 127To Skymax Main Page
Telescopes Home Page