SkyMax
The SkyMax range of telescopes from Sky-Watcher are excellent for observing the solar system.
These 'scopes' and a barlow lens are ideal for imaging lunar and planetary detail, they can also be used for deep sky work but will require a focal reducer. A drive will be required for imaging and is advisable for visual work.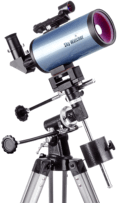 The Skywatcher SkyMax Maksutov-Cassegrains are considered to be the ultimate "go anywhere" telescopes, and being so compact are the ideal choice if space is limited.
In spite of their modest dimensions they still pack a powerful punch. Their High-Resolution optical systems are multi-coated to maximize contrast and image sharpness.
The Skymax Maksutovs come in apertures of 90mm, 102mm and 127mm, and are available either complete with equatorial mounts and tripods, or as tube assemblies only, which can be mounted onto a standard photographic tripod.
The Maksutov Signature Series is the new generation of professional quality Maksutovs from Sky-Watcher, 127mm, 150mm and 180mm
---
Return From SkyMax To Skywatcher Telescopes Main Page
Telescopes Home Page