SkyWatcher Field Flattener
The SkyWatcher Field Flattener is a standard 2" push fit suitable for any 2" focuser. It is of exceptional quality and optimized for DSLR imaging on refractor telescopes with focal ratios of f/5.5 to f6.0.
It additionally provides significantly enhanced results on refractors with focal lengths narrowly outside this optimized focal range.
The integral T ring adaptor thread offers a standard fit for your cameras T ring making it possible for a secure direct connection between your camera, flattener and telescope.
The benefit of employing a field flattener is that it boosts the usable field for imagers significantly, and with modern day fast refractors and current large chips on cameras, it will improve your images lessening coma and sharpening stars towards the edge of the field.
This Field Flattener has been manufactured from top quality CNC machined aluminium, and has a gloss black anodised finish.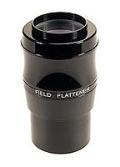 This flattener is a lot easier to use and better quality than many others currently available. The stars out at the edge are significantly better shapes and much easier to achieve.
What's even more compelling is that this performance is available at a superb price. It's possible to spend a great deal more on telescope flatteners with absolutely no performance guarantees at all.
It's possible that once you have tried this one you will not need to change to any other.
---
Return From SkyWatcher Field Flattener To Telescope Accessories Main page