Steiner Binoculars
Steiner Binoculars are commonly used for military, marine , hunting, outdoor, birding, leisure activities and astronomy. Steiner are synonymous with quality optics and are amongst the most popular brands in the world.
One of the primary features of Steiner binoculars is the wrapping around the eyecups which provides comfortable and uninterrupted vision since they fit nicely on the face which prevents light entering into the eyecups. If you wear eyeglasses you can use them in place of the removable eyecups.
Ever since the outset, Steiner has been committed to developing new optics technologies, and in the process a great number of imaginative and innovative developments were established which set new standards for future products with all binoculars.
Steiner have several ranges of binoculars such as Predator, Nighthunter, Military,Marine, Perigrine, Law Enforcement, Safari Pro, WildlifePro and Merlin. There are several 10x50 and 7x50 binoculars in the Steiner lineup that amateur astronomers would find interesting.
Steiner Observer Binoculars
Steiner 25 x 80 observer binoculars were developed for the military. They are tough and durable as you would expect, and are an excellent choice for use in astronomy, although they are in the top price bracket. They offer a superior view of celestial objects even the rings of Saturn or the moons of Jupiter.
The 80-mm objective lenses, combined with Steiner's renowned optics, deliver superior low-light performance, and don't let their appearence fool you, they are light weight, in fact they are upto 30% lighter than many of their competitors.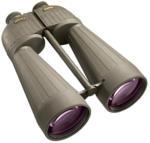 Specifications
20x80
Weight:56 oz
Field of view:165 feet @ 1000 yards
Eye relief:13mm
Dimensions: (inches) 12L x 8.6W x 3.6H
IP (Inter Pupil) Distance: 56-74mm
---
Return From Steiner Binoculars To Astronomy Binoculars Main Page