Meade LightBridge 12" Dobsonian
The Meade LightBridge 12" Dobsonian is not just a big scope, it's a big telescope that can go anywhere. The 12" LightBridge Truss-Tube Dobsonian can be assembled and taken apart in just a couple minutes so you can set it up at your home or take it to your favorite dark sky location with ease.
Meade optic offer premium components, and great portability all for about the same price as an ordinary solid tube Dobsonian.
The Meade LightBridge 12" Dobsonian Truss-Tube features a superior Meade quality multi-coated, diffraction limited 12" primary mirror, focal length 1524mm (f/5). The optics of this style of telescope are only as good as their mounting, which is why Meade engineers gave the LightBridge primary mirror a top of the line, fully adjustable, high strength but light weight aluminum stress free floating multi-point cell with built in cooling fan.
The included battery pack for the fan takes 8 (user supplied) AA batteries and is used to speed the cool down process of the primary mirror, improving image quality.
Solid OTA Mount The sturdy laminated finish wooden Dobsonian mount includes premium features such as roller bearings on the azimuth (side to side) axis and large diameter aluminum altitude (vertical axis) bearings with a hand adjustable variable tension brake for smooth and stable movement.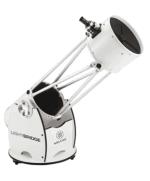 Smooth precise focusing is achieved with this classic design. A unique focus tension knob and focus lock design gives complete control over focus. Lightweight Aluminum Trusses The open truss design of the LightBridge Dobsonians means portability of the telescope is dramatically improved over a solid tube design.
Taking only moments to set up and take apart for travel, the extremely rigid truss frame design ensures a no-compromises view through the telescope. Hand driven Dobsonian style telescopes by their nature need good mounts with smooth and stable movement to be enjoyable, and here again the LightBridge excels.
Handy Meade Accessories for the Lightbridge
Handy accessories for the Lightbridge include the Meade Laser Collimator which helps make collimation of even very "fast" Newtonian telescopes quick and easy.
And...
A Shroud to help block stray light from interfering with your observing pleasure.
---
Return From Meade LightBridge 12" Dobsonian To Meade Lightbridge Main Page
Telescopes Home Page