Opticron Observation Binoculars
The Opticron Observation Binoculars are 11x80 magnification and deliver high quality, high magnification stereo viewing, whilst offering some of the finest images of any 80mm binoculars that you can purchase today.
Superior clarity, light gathering and field of view make this instrument a popular option for astronomy as well as tripod mounted terrestrial observation.
The Opticron 11x80 offers full field of view with spectacles and uses fully multi-coated optics, fully rubber armoured and features a integral tripod adapter socket positioned at the base of the focusing shaft.
Binoculars such as the Opticron are frequently used by amateur astronomers throughout the world. Astronomy binoculars in general have a wide field of view which makes them a good choice for comet and supernova seeking (giant binoculars) and general observation (portable binoculars).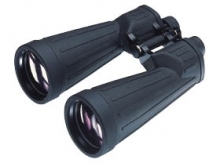 Specifications
Product Code 30196
Magnification - Opticron 11x80 Observation 11x
Objective Lens Diameter (mm) 80
Prism Type Porro Prism
Coatings Type - Opticron 11x80 Observation Super Multi-coated
Field of view @ 1000 yds. (ft) 239
Angle of view (Real) 4.57°
Angle of view (Apparent) 50.31°
Relative Brightness Index (RBI) 52.9
Twilight factor 30
Interpupillary Distance (IPD) mm 59-72
Exit Pupil - Opticron 11x80 Observation 7.27
Eye Relief (mm) 21
Dimensions (H x W) mm 286 x 223
Weight (grams) - Opticron 11x80 Observation 2450
---
There are three more premium quality 80mm objective lens binoculars that are designed specifically for outdoor use and are fully nitrogen waterproof.
They can be used while it is raining or left unprotected on a tripod during the course of a shower without worrying about any water damage.
Apart from waterproofing, every binocular is shielded with a resilient natural rubber covering, and boasts a wide band focus wheel, twist-type retractable eyecups and a retractable lens hoods to eliminate any problems of solar-glare.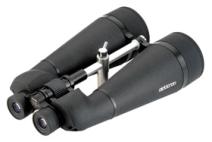 The 16x80 is an excellent choice for astronomy, while the higher magnifications of 20x80 and 30x80 are aimed more toward long range terrestrial observation and specialist outdoor applications.
All three of these models provide long eyerelief and deliver full field of view with or without spectacles.
These WP Observational binoculars can be used either as handheld instruments supported together with the 31018 Harness, or by making use of using a standard photo/video tripod connected to the integral tripod adapter. The WP Opticron Observation Binoculars are some of the finest large objective field binoculars on the market today today.
---
Other Opticron Binoculars
---
Return From Opticron Observation Binoculars To Astronomy Binoculars Main Page
Telescopes Home Page