Vixen Binoculars
Large aperture Vixen binoculars are the ideal way to view the night sky. Whenever you employ both eyes to observe, the brain automatically adjusts for minor imperfections in each eye.
The outcome is a crisper, more natural view. Objects take on a 3D effect which is particularly apparent when observing sizeable nebulas and clusters.
With regards to observing comets, Vixen Astronomical Binoculars are the ideal choice. By changing eyepieces, you can observe wide field star clusters or high power viewing of globular clusters.
Vixen's Giant ARK Binoculars, the BT-80M, and the NEW BT125-A Binoculars will provide such a view.
Vixen BT80M Binoculars
Vixen Binocular Telescopes provide a impressive view of comets and star clusters. These large aperture, 80mm binoculars are excellent for looking at the night sky or as a terrestrial binocular for making the most from a great view.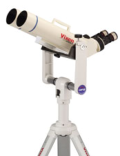 The optics are fully multicoated for optimum light transmission. Every optical assembly is precisely aligned at the Vixen assembly plant in Japan to provide the sharpest images possible.
The BT80M is portable, at just 11 lbs in weight, so that it can be taken to a dark sky location very easily. The viewer has an option of attaching any LV or LVW eyepiece to give a wide range of magnifications.
Specifications
Aperture Ratio F/11.2
Supplied with 36x magnification
Focal length - 900mm. (f11.2)
Resolving Power: 1.45 arc sec.
Light Gathering: 131x
Dovetail mount bracket for GP2/GPD2 and Sphinx mounts
80mm multicoated optics. Aperture : 80mm
Field of View : 1.6 degrees
Real Field of View: 66 arc minutes
Exit Pupil : 2.2mm
Weight : 5kg (11 lbs.)
Vixen BT125-A Binocular Telescope
With outstanding resolution, these super bright binoculars show incredible detail for both Astronomical and Land observations.The BT125-A features a pair of 125mm achromatic objective lense at f/6.08 to collect 300% more light than the naked eye.
The 45 degree angled eye piece holders provide comfortable viewing. Every eyepiece holder accepts 1.25" eyepieces.

The interchangeable eyepieces enable you to change magnification for each individual observing session. Each eyepiece has individual focusing.
Specifications
Effective Aperture: 4.9in (125mm)
Focal Length: 760mm, f/6
Coatings: Multi Coated
Dimensions: 21"x12"
Weight: 24 lbs
---
Return From Vixen Binoculars To Astronomy Binoculars
Telescopes Home Page